Basic Instructions for Your DSC Security System
For Complete Manual Click Here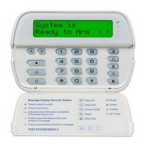 What is my Access Code:
The standard access code programmed into the system is: 1234
How to change Date and Time:
Here are step-by-step instructions on how to change the date and time on the keypad on your DSC Power Series security alarm panel:
Press the * button followed by 6
Enter your system's master code
Press 1 to Select Time and Date programming
Using the number keys, enter the time (in HH:MM format) and date (in MM:DD:YY format)
Press the # Key to exit programming
How to arm the system:
You can either arm the system by pressing 1234, or press & hold the AWAY button until the keypad beeps, the system will then beep for 120 seconds (2 minutes) before becoming armed. A door must be opened then closed within that 120 seconds for the system to recognize that someone has left the house.
How to disarm the system:
You must press 1234 to disarm the system, you will have 90 seconds once entering the house through one of the doors that is programmed as delay (the entry door and the door entering the house from the garage are the two doors programmed on delays unless otherwise specified) to access a keypad and press 1234.
How to use the STAY mode:
Press and hold the STAY button on the keypad and the system will arm all the exterior doors & windows, but will leave the motion sensors in the off mode. This will allow you to move freely throughout the house without setting off the alarm. Be aware that if you open a door or a window while in this mode that the alarm will go off. You will need to press 1234 to disarm the system.
How to turn the chimes on:
Press and hold the chime button on the keypad and all exterior doors and windows that are on the system will chime when they are breached (no matter what mode the system is in)
How to change access codes:
To change the main access code, press *5 1234 40 (your new 4 digit code), then #.
Please feel free to call if you have any questions.